The first cool freshness comes in mid-September, reminding us that summer is already over and it is worth considering buying a quality demi-season coat. You need to pay attention to the fact that the coat can be made of various types of material, different quality of fabric, and this requires different care for it. How to choose a coat by the quality of the material, by color, find out which fabric is best for the season?
Popular coat fabrics
Woolen fabrics. Such fabrics are divided into several groups, it depends on what style this or that material will be used for, because the type, quality, and wear resistance in a certain season for which coat models are sewn is important.
Worsted. This type of fabric can consist of 100% wool or contain other types of materials. For the manufacture of such a fabric, woolen fibers of the same length are used, which are repeatedly combed when weaving on a combing machine, which makes the fabric light, so there are drawbacks, in places of frequent contact with other surfaces, the material begins to shine, and eventually shines.
Gabardine. Suits, uniforms and light coats are sewn from this type. It is mainly used in the tailoring of men's and women's summer coat models, some types of coat models are impregnated with special water-repellent agents in case of rainy weather.
Boucle. Back in the 70s, this type was used for tailoring suits and coats, and sow the day has not lost its relevance in the fashion industry for tailoring woolen coats for women and men. A good advantage of this fabric is its structure, which allows you to hide the slightest defects.
Tweed. It is intended for sewing coats, but it is also widely used in tailoring skirts, suits and jackets, both for women and men. When weaving tweed, funny weaves are used, which makes the material dense and with textured patterns.
When sewing woolen coats, such fabrics as beaver, vigon, cashmere, crepe, diagonal are also used. Among these types, cashmere is one of the most expensive materials for sewing coats, but the sophistication and sophistication of the fabric itself gives it a chic look. Cashmere coats have always been a fashion trend, the best in quality, style for the autumn season.
Fine cloth. Like worsted fabrics, fine-woven fabrics are pure wool and mixed with synthetic fibers, which include:

Drap. It is a heavy and thick material, has good heat-shielding and wear-resistant qualities.
Velor. Very soft and soft to the touch material. An aristocratically elegant look, gives any coat made of this material a nobility and an expensive look. This fabric does not wrinkle and does not form wrinkles, it is light and comfortable to wear.
Ratin. It is one of the most sought-after fabrics for women's coats, reflecting the luxury, confidence and solidity of its owner.
Flacomé. The material is similar in all properties to ratin fabric, it differs only in texture.
The cloth. High quality English wool fabric. A coat made of such fabric is highly wear-resistant.
Лучший тип пальто для повседневной носки
Выберите до
3
вариантов ответа
Select coat color
As for the color scheme of the coat, there is no limit to the variety, from the brightest to the darkest, different texture patterns, a combination of colors. The color should be chosen based on your personal preferences and tastes, if you like bright red or classic black and gray, then the next item after the color is the style of the coat, as the bright color and the right style for the figure will emphasize all your shapes and give you originality, while classic colors, on the contrary, hide flaws, if any.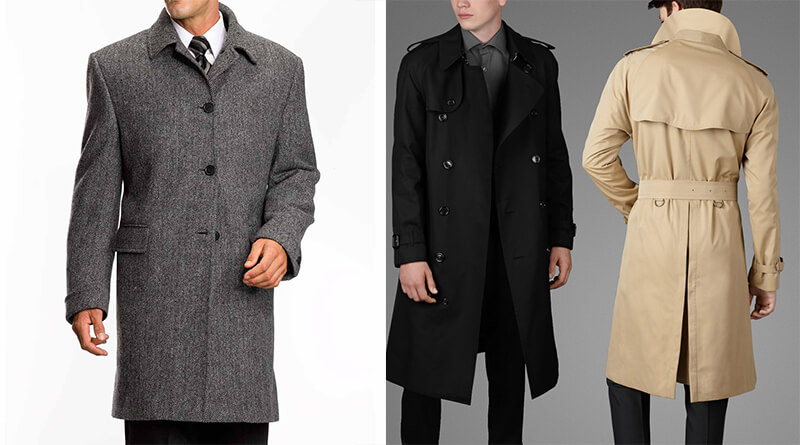 How to choose a men's coat?
The most important factor in choosing a men's coat is that it should be comfortable and give its owner pleasure to wear. You need to choose a coat that, after the first season of wearing, will not lose shape and will not spoil the appearance.
Also, when choosing and buying a men's coat, you should pay attention to the ability of the material to retain heat, as this is outerwear for cold and rainy days.
The classic coat with the name Chesterfield has always been considered the best in quality and style. Chesterfield not only has all the best qualities of tailoring materials, but is also comfortable to wear and practical for any weather.
Men who love comfort and always be in attention leave quite a few good reviews about this model. Style and difference from other coats: knee-length, main color grey, one back vent, no cuffs, straight pockets sewn on top, short and sharp lapels, no seams and arrows at the waist, single-breasted, and in some models there may be a velvet collar.
The material from which Chesterfield is sewn is only natural wool, tweed, cashmere or vigon.
As well as a more free style model, you can consider the Trench model. A trench coat is an excellent choice for autumn weather, has such properties as waterproofing, thermal insulation. This model is sewn from wool, leather and cotton, mainly in traditional colors – khaki, but there are exceptions in fashion and you can find models in such colors as: blue, green, black, brown.
Style and differences from other models: Double-breasted, knee-length, single vent, wide sleeves, shoulder straps, waistband, cuffs with straps, protective flap on the chest.
To buy the best coat and wear it with pleasure, you must definitely determine the exact size of the product, style, material quality, finishing and tailoring details, what requirements it must meet for the season warm or demi-season.
When you are wondering: "which coat to choose?" – be guided by the first and important tips: material (the quality of the material from which the products are sewn), style (does the model fit your figure), size (the coat should definitely sit on you beautifully, not pull together and not be big).

Choosing coats for women
The very first step is to determine the figure: height, hips, shoulders, waist. In order to make the right choice of a coat according to the type of figure, it is necessary to pay attention in detail to its components separately, which are listed above.
Short stature and full hips – below the knee coat and A-line cut will do.
Slender and tall – a long, straight-cut coat with a belt at the waist will do.
Narrow shoulders but pronounced hips – a coat with an emphasis on the shoulders, a high or voluminous collar, decorative trim, fur.
Broad shoulders, not pronounced hips – you should correctly focus on the hips and waist, a flared coat without unnecessary decor, texture, laconic top and lush bottom.
Shoulders, waist, hips are the same in size – a coat with different textures, colors, styles, an unusual cut, to the middle of the thigh or to the knee, a belt or belt is desirable.
Hourglass figure – no doubt any coat model will do.
Oversize
Oversized clothing has become popular recently – these are models that look big on you and are loose in cut. Not everyone prefers such a free style, but this style also has its fans and every year there are more of them, because the oversized style simplifies all the rules for choosing a coat by type of figure and size, leaving only the quality of the material.
Do not forget that buying a coat a size or two more you will not get oversized. This is a certain fashion trend that was borrowed from the distant 80s, when women wore large sweaters and tight leggings, sweaters were the initial image of oversized, and leggings were its completion. When choosing a coat, you should pay attention to the size, because these days there are already many oversized coats and you do not need to buy just a coat two sizes larger.
Choose and buy things correctly and with pleasure, so that in the future they bring you joy and comfort when wearing.
Choose a coat according to the season
Winter. It seems difficult at first glance to buy a warm winter coat and look beautiful and feel comfortable all winter, as a warm thing is associated with heaviness and bulkiness, but those days are long gone, now warm outerwear will not necessarily be heavy. When choosing a winter coat, be sure to carefully read the composition of the product on the label. In order for the coat to be warm, it must contain at least 60% wool, and the lining must be made of natural materials. The correct length, size, style, cut are important details when choosing and buying a winter coat, as there are models that are free on your figure but with narrow sleeves that will not allow you to squeeze into them in a warm sweater. Trying on a coat for the winter should be done in thick clothes, knitted sweaters, thick sweaters. Now you know exactly how to choose a winter coat for women and wear it with pleasure for more than one year
Spring. Cashmere has always been relevant for the spring season, given the variety of technologies for creating material – not 100% material will do. The best option for moderate spring weather would be a coat made of materials: cashmere at least 70%, polyester no more than 30%
Autumn. Fitted or loose (oversized), equally fashionable for this cool season, the best choice would be a coat with a mixed composition, but the material must necessarily include wool, good ratings in the purchase and choice are used by such models, which include: 50% wool, polyester 50%; wool 70% acrylic 30%
Demi-season. With a huge assortment of demi-season coats, you should first of all pay attention to the label, which indicates how much this or that material was used. Suitable compositions such as: wool 50-70%, polyester 30-50%, acrylic 5-10%, viscose 3-6%, other materials not exceeding 5%
Fashion trends
In any season, coats made of wool and cashmere, classic cut, plain and strict colors, the length of which is not below the knees, always remain fashionable. As for oversize, for everyday comfortable wear, it will be a good choice for a loose-fitting coat, no longer than the middle of the knees, or even above the knees. The color of oversize is varied and it is worth choosing close to your favorite color.
Choosing the right coat and paying attention to all the details of the product in clothes, you will always look sophisticated and fashionable in any weather, feeling comfortable, and your choice will bring you pleasure for many years until you decide to change your image.