How to choose a swimsuit for pregnant women?
When you are in an "interesting" position, it will be useful to visit the pool or relax on the sea. If you don't have a swimsuit or you decide to buy a new one, we will help you answer the question – how to choose a maternity swimsuit in which you will always look attractive. What type of swimsuit is better to choose will depend on your gestational age. When the tummy is not visible or it is not large, most swimsuits will fit you according to the shape of your figure, but when the tummy is already well stretched and grown, then you need a swimsuit for pregnant women.
When choosing a swimsuit, you should know that a regular swimsuit is different from a maternity swimsuit. Therefore, you need to choose the right swimsuit so that it always pleases you and you feel comfortable. When choosing a swimsuit for pregnant women, it is important to listen to the opinions of experts who recommend paying attention first of all to the quality and safety of the material from which the swimsuit is sewn.
Doctors advise buying a loose swimsuit, since the growing tummy should not squeeze anything or cut into the skin with hard seams. Experts say that tight clothing impairs blood circulation, this should be avoided during pregnancy, as with poor blood circulation, the flow of oxygen decreases, which means that the baby will receive less of it.
For expectant mothers with a big tummy, there are two types of swimsuits, one-piece and separate. Which type is better to choose, you should consult with your doctor, telling him for what type of holiday you choose a swimsuit.
To the beach or to the pool?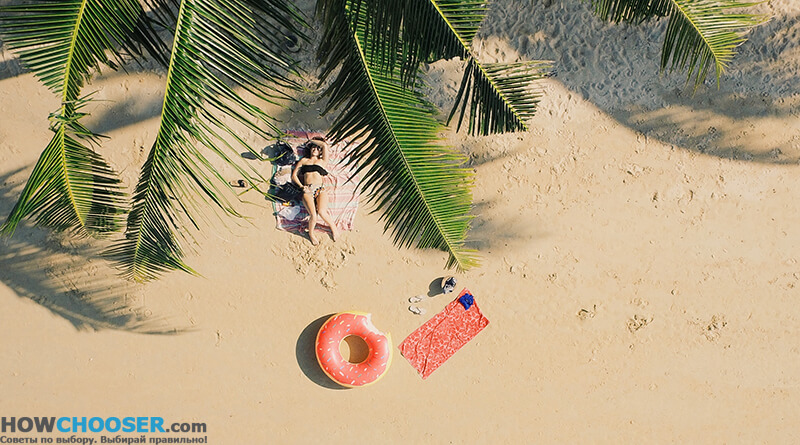 If you are buying a swimsuit for going to the beach and do not know which swimsuit to choose for a pregnant woman at sea, then it is recommended to pay attention to closed models of swimsuits that will protect your tummy from direct sunlight, ultraviolet is useful in moderation, and during pregnancy, sunbathing is necessary be extremely careful, experts say. For a trip to the pool, both types of swimsuits, both indoor and outdoor, are suitable. To make it easier for you to determine which swimsuit is right for you, we have compiled recommendations based on the opinions of experts.
What types of swimsuits are suitable for expectant mothers
One-piece swimsuits include:
tankini – consists of an elongated top that minimizes exposure to a large amount of ultraviolet radiation, completely covering your tummy, the bottom can be shorts or swimming trunks. In such a swimsuit model, special attention should be paid to the elastic band on the waist of swimming trunks and shorts, it should be wide and not tight;
monokini – this type is one-piece, but when choosing this swimsuit, you should know that most often these models come with deep cutouts on the sides. This means that most of your tummy will be exposed to sunlight
Separate swimsuits include:
bando – this type of swimsuit can be both one-piece and separate. The peculiarity of this model is that it well supports the breasts of the expectant mother, and in swimming trunks there is a wide belt with a soft elastic band that does not squeeze the tummy;
"Push up" – it is advisable to consider such a swimsuit with a wide belt or with a soft elastic band, you should also pay attention to the pads in the bust, they should not be hard in any case.
Materials used in sewing swimwear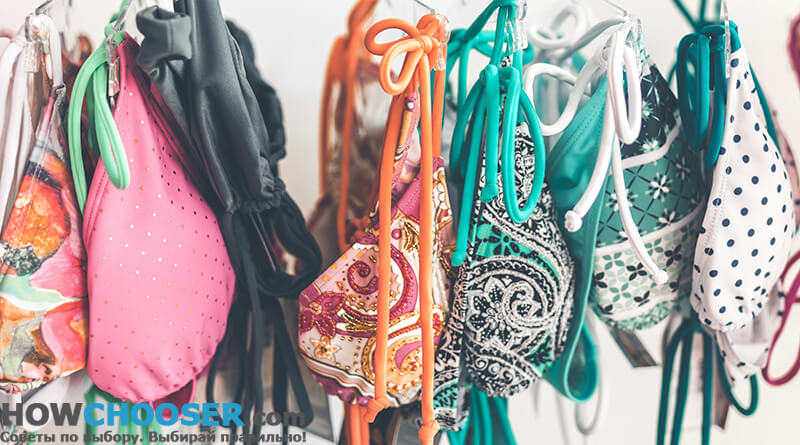 It will be useful for expectant mothers to learn about the materials from which swimsuits are made. As we remember, experts recommend paying attention to the quality and safety of the material, so this is an important part of a swimsuit that affects all its features. We already know that in the production of swimwear, both ordinary and for pregnant women, not only natural materials are used, but also synthetic ones.
What fabrics are used in sewing swimwear
polyester;
lycra;
cotton;
microfiber;
tactel;
polyamide;
nylon;
Also, in sewing a swimsuit, a combination of several fibers can be used. On a large production scale, most often materials are used with the addition of various synthetic fibers, which allows the product to be more wear-resistant.
Pros and cons of swimsuits of different materials
We found out the differences in materials in order to identify the pros and cons of different types of fabrics that are used in tailoring swimwear.
Cotton is one of the environmentally friendly materials. Therefore, when choosing a swimsuit made of cotton, you should pay attention to the fact that being environmentally friendly, this material has many disadvantages.
Pros and cons of a cotton swimsuit
pros – does not cause allergies, pleasant to the touch, well protects the skin from ultraviolet radiation, breathes.
cons – when wet, it loses its shape and stretches, dries for a long time, and with frequent washing it can change its shape beyond recognition, not suitable for the pool.
Therefore, we recommend that you still choose swimwear with the addition of synthetic fibers, but not in significant percentages – no more than 30%
Polyester swimsuit
pros – it is cheaper than a cotton swimsuit, such a budget option. It also does not fade in the sun.
cons – Does not breathe, quickly loses its shape, heavy and dries for a long time, especially since it is categorically not suitable for the pool.
Lycra swimsuit
pluses – the ability to correct figure imperfections, perfectly retains its shape, dries quickly, does not fade.
cons – if sewn incorrectly, it can create discomfort in the seam areas.
Features of this fabric – elasticity and characteristic gloss. We recommend models of swimsuits where lycra is not more than 30%.
Microfiber swimsuit
pros – elastic, breathable, does not cause allergies, does not shed, does not lose shape.
cons – with frequent use, it loses its shape, the wear resistance of the product decreases.
Pros and cons of a tactile swimsuit
Tactel is one of the best and most popular materials for the production of women's swimwear. A swimsuit made from this fabric has many advantages.
pros – pleasant to the touch, dries quickly both in the sun and in the shade, elastic, breathable material that allows the body to breathe.
cons – no cons identified, meets all standards and desires.
Polyamide swimsuit
pros – elastic, durable, dries quickly, does not fade, does not lose shape, corrects the figure, wear-resistant, suitable for the pool.
cons – no cons were found in this material, it meets all the requirements as a material for swimwear.
Nylon swimsuit
Nylon is mainly used for tailoring sports swimwear.
pluses – drags the figure.
cons – weakly resistant to ultraviolet, salt water and water with chlorine.
Standards for the composition of the fibers of the material of a swimsuit for pregnant women
Having studied all the available information about swimwear, listened to the advice of doctors for expectant mothers, we learned how to choose a swimsuit for pregnant women and came to the conclusion that most manufacturers produce swimwear based on the recommendations of experts, also taking into account the desires of women themselves to look attractive.
In any production, there are companies that produce fakes or low-quality products, in our case, swimwear. Therefore, there are acceptable standards for the composition of fibers in swimwear for pregnant women.
Composition of fibers for swimwear:
cotton 95% – elastane 5%;
cotton 80% – elastane 20%;
cotton 70-80% – polyamide or lycra 30-20%;
Polyamide 80% – Elastane 20%
As mentioned above, low-quality swimwear comes across such products for pregnant women where elastane is more than 20%, please note that such clothes can most likely irritate the skin, preventing your body from breathing. It is important for expectant mothers to remember and monitor their health.
The type of fabric elastane does not tolerate ultraviolet, chlorinated, as well as salt water and high temperatures (no more than 40 degrees). Therefore, the less it will be in the composition of your swimsuit, the longer it will serve you and will please you.
What to look for when trying on a swimsuit
Be sure to try on the swimsuits that you like in order to eliminate all possible discomfort in the future;
Check the elastic on your shorts or trunks. Pulling it away from the body as much as possible, if it stretches easily and stretches effortlessly, this is good. If you make a lot of effort and the elastic band is difficult to stretch, this is very bad, in the future such an elastic band will rub and cause you discomfort.
If the belt has laces, then check the length of the lace, the length should be enough for several adjustments, while making it convenient to tie.
No complex laces that come close to the body, only the freedom and lightness of your clothes.
The top of a swimsuit should be very comfortable. The breasts of the expectant mother are very sensitive, so there should be no hard bones or pads in the upper part of the swimsuit, but at the same time the swimsuit should support the breasts of the pregnant woman without creating discomfort.
Output
Having studied all the main components of this type of clothing, you can easily choose the right swimsuit and feel as comfortable as possible in it, and look attractive.
</center >